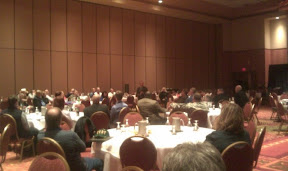 Presenter -
Hans Kallam
Director Kallam notes that his agenda is more free-form and intended to be a discussion. He started by addressing efforts to professionalize emergency management. Citing issues related to control, we have to be careful not to stovepipe ourselves and should rely on the varied backgrounds and expertise that make up emergency management. As we look forward, the need to maintain flexibility is paramount.
One of the things we as managers need to keep focused on is that funding will be core to decisions in the future. Emergency management has been a growing, funded effort. That may not always be the case and we need to plan accordingly. As resources continue to be further challenged at the local, state and federal levels we cannot rely on an assumption of the same levels and expectations of funding in the future. We must seek efficiencies and we should think about that now in the event that cycles change. We will still need to plan for, resound to and manage disaster, we just may have to do it with fewer resources.
On the Division, the focus is on integrating exercises with the State emergency elements and rotating those integrated exercises with local emergency operations centers across the state. the Division continues to test our Emergency Management Academy as a first, beta attempt at standardizing training in Colorado. We will be looking to seek feedback and move forward with our partners in the future.
Kallam then opened the floor up to a town hall question and answer approach.
The first question was related to Citizen Corps Funding. Kallam indicated that while he hasn't heard anything specific, every program that is federally funded must plan for funding levels to go down.
The second question queried state activities and pre-planning being done to offset the potential reductions in funds at the local level. Kallam indicated that we are just looking at that now because the first seeds of this potential for reduction are just being planted. Kallam indicates the key is to reevaluate every step we take and how it materially enhances citizen safety.
The third question addressed how the State will help educate elected officials on the potential impact of reduced funding. Discussion focused on roles and responsibilities on information-sharing both from the local level to organizations as well as from the State-level down. Right now, Kallam indicates we simply do not know and as such, it is prudent to take steps to consider how we, as a community, will engage elected officials in educating them as to what we do and how we might operate under more limited funding. Kallam also noted that the Division is working on an elected officials guide to emergency management that will touch on some of these issues and serve as a reference point for emergency management education efforts in Colorado.
Mike Gavin added that the State All-Hazard Advisory Committee is an alternate forum to share ideas and thoughts.